How to Create a Ticket & Use Ticket System



To better assist you, improve efficiency, and ensure that no replies are missed or issues are left unresolved, we have implemented a ticketing system. It allows us to address your concerns more efficiently. You can choose any of the following methods to contact our customer service:
Note:
If this is your first time sending an email to the ticketing system, the system will automatically trigger two emails to you. You will need to click on one of the emails to log in to the ticketing system for tracking the progress of all tickets.
Option 2: Initiate Online Chat on deftship.com
You can directly initiate an online chat on our company's official website by clicking on the "Chat Now" button located in the bottom right corner of the webpage.


You will need to provide your valid email address for follow-up on any unfinished chats. When you wish to end the current conversation, you can simply click on the "End Chat" button in the bottom right corner and provide feedback.(optionally)





Option3: Register
ticketing system
and submit a ticket

Register



Go to "My Area" and submit a ticket



Fill a simple form and submit












How to check previous tickets
1. Login ticket system and click My Area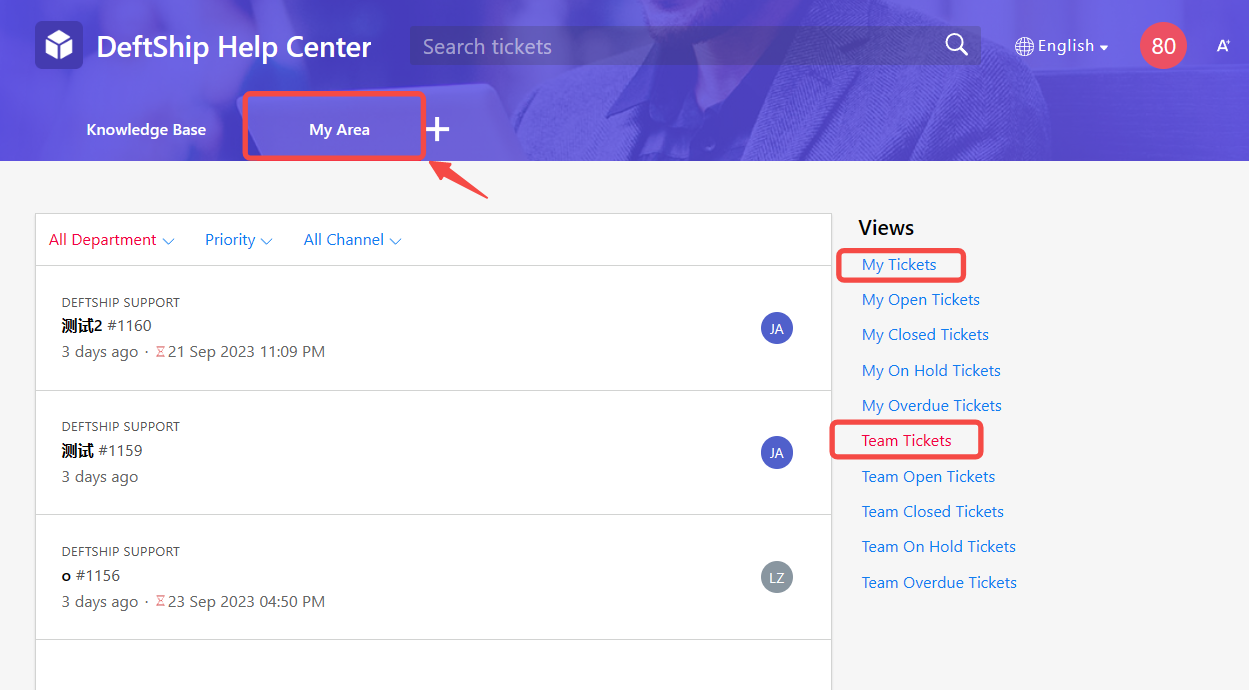 Note: If your account is associated with your organization's account, you will be able to view all tickets for the entire company in "My Area". If you are unable to see organization tickets, please contact our customer service to associate your email with your organization's account.
Related Articles

Introduction to each page of the Deftship system

Here is a preview of all tabs available in Deftship v2. 1. Orders Tab A. New Shipment How to create a new shipment order Shipment to Canada How to Purchase Insurance (3rd Party) How to add signature confirmation on my Label B. Open orders How to ...

How to create a USPS Manifest File

What is a Manifest file? A manifest is a single-page document with a barcode that carriers can scan to accept all packages into transit without the need to scan each item individually, speeding up the package acceptance process which can save a lot ...

How to Create Batch Parcel or Freight Orders

1. Downloading the Order Template Go to 'Open Orders', then, click on Import button If you don't have the file yet, you can download the file first. Options are below: Download Parcel - in creating batch parcel orders Download Freight - in creating ...

How to use the Deftship Freight Class Calculator

We got you! We are eager to help our existing and future customers to make better decisions with their Shipping processes. We know how important it is to identify the Freight Class of your Shipment. What is Freight Classification System? The National ...

How to Deal with System Error

一、System error report in the process of placing orders:: 1. The system of feedback " UPS label creation failed :【120301】Missing or invalid ship from attention name." or "UPS label creation failed:【120300】Missing or invalid ship from company ...