How to edit the voided order
If the voided shipment order only needs to be edited and re-worked, you can click on 'Edit' button and it will let you modify the necessary details on your order.
Click on the 'Edit' button.


2. Modify necessary details on the form. Make sure they are accurate.
3. Then, click on the 'Save Changes and Get Quotes'.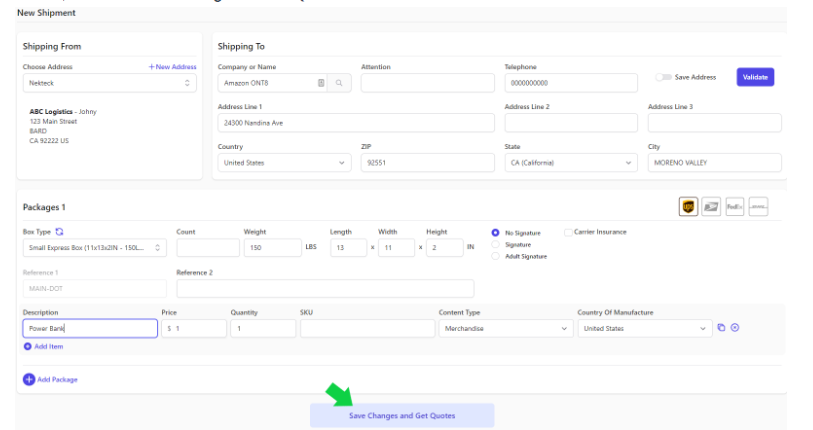 Related Articles

How to void a shipment order

We understand that there are some cases where the shipment needs to be canceled and the label should be voided. This guide will show you how you can void the label in the Deftship system. Voiding Label Guide The time limit is until when the label can ...

How to convert your Order Type

You may be looking for a way to convert your existing order that was originally set as a Parcel order into a Freight Order or vice versa. Instead of going through all the hassle of deleting/canceling an order and creating a new one again for the same ...

How to Track your Shipment Order

You can track your package on the Deftship system or go directly to your Carrier's website. Take note: - Freight Icon on Packages Column. Here's to tracking your Freight Order. - Parcel Icon on Packages Column. Below are the steps to track your ...

How to create a new shipment order

Steps in Creating a New Shipment Order through Desktop 1. Log in to your DeftShip Account. 2. Click on New Shipment. 3. Select the Shipping From address. If the address is not yet, available on the selection. You can add a new address. You can ...

How to Track your Freight Order

We encourage you to track your Freight order. This way, you keep yourself updated and the recipient of the package when he should expect it. Freight orders use PRO or BOL numbers to track the shipment. The number of carriers you can choose from is ...