Please note, this is only for UPS, FedEx, and DHL Express, Basic Liability Coverage by Carrier,
with no insurance premium from Deftship.
Most carriers include basic liability coverage for several service levels, the table below summarizes the basic liability coverage for our major carriers.
Basic Liability Coverage by Carrier
| | | |
| --- | --- | --- |
| Carrier | Type | Default Coverage Limit |
| UPS | Domestic | $100.00 |
| UPS | International | $100.00 |
| FedEx | Domestic | $100.00 |
| FedEx | International | $100.00 |
| DHL Express | Domestic | $100.00 |
| DHL Express | International | $100.00 |
If you didn't purchase premium insurance through Shipsurance for your UPS, FedEx, and DHL Express shipments, you may still be eligible for the basic liability coverage from these carriers. You can find more detailed instructions below on how to file your claims through the DeftShip Dashboard.
Claim filing is handled through DeftShip, so the first step is to go to your DeftShip account:

1. Select "Shipping" in the left menu bar and click on the order number to enter the detailed page.
​2. Click on "Fill Claim" in the upper right corner (NOTE: that the service fee will only be charged if the claim is successful).


3. Fill in the required documentation in the message box and upload supporting documents.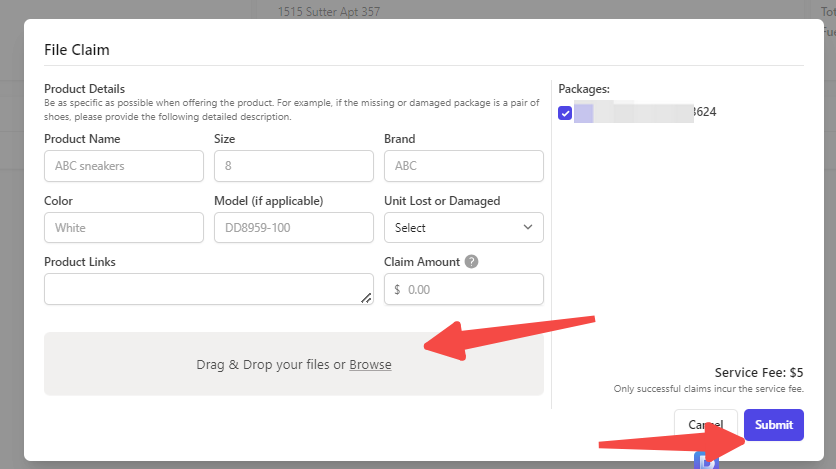 4. Upload photos of damaged or missing packages and/or contents.
* Please note that a claim cannot be submitted without the supporting documentation.
Important reminder:
Different shipping carriers have varying requirements for documentation when making a claim without additional insurance. Below, you will find specific guidelines and timelines for filing claims with UPS, FedEx, and DHL. You can consult the provided
claims instructions
for further information.
Helpful suggestion:
Once you submit your claim request through DeftShip, it will be passed on to the relevant courier company (such as USPS, UPS, FedEx, DHL) for investigation. We will make every effort to assist you in filing your claim. However, please note that, on average,
only 15% of claims are accepted by the courier.
Additionally, if an item is lost or goes missing, the courier investigation will automatically close after 45 days (resulting in the claim being rejected) and the courier will not acknowledge any damage.
To expedite the claim settlement process and increase the likelihood of acceptance, we recommend purchasing additional shipping insurance from Shipsurance.
Here's How to Purchase Insurance (3rd Party), click
here
.