UPS Ground Saver is a cost-effective ground shipping service designed for sending non-urgent, low-value shipments to residential addresses.
UPS Ground Saver is specially crafted for reliable delivery of low-value shipments to residential destinations, allowing you to save money on domestic shipping when time sensitivity isn't crucial. This service also extends its reach to shipping to PO Boxes, U.S. Territories, and Military Addresses worldwide.
Key Highlights of UPS Ground Saver
Here are the essential points to remember about UPS Ground Saver:
UPS Ground Saver offers the most economical UPS service available on Deftship.
Deliveries can be made seven days a week, including Saturdays and Sundays.
It is tailored for small, lightweight packages destined for residential locations and without urgent delivery requirements.
UPS Ground Saver packages are handled within the UPS network and may be delivered by UPS or handed over to the local Post Office for final delivery by USPS.

Understanding a UPS Ground Saver Label

UPS Ground Saver labels differ slightly from regular UPS labels since USPS handles the last-mile delivery in some cases. These labels contain two tracking numbers and multiple addresses, which may appear confusing.

Here's a breakdown of the components:
Your Shipping Address
Address of the local Post Office where UPS will hand off the package
UPS Tracking Number for the UPS portion of the journey
Recipient's delivery address
USPS Tracking Number for the last-mile delivery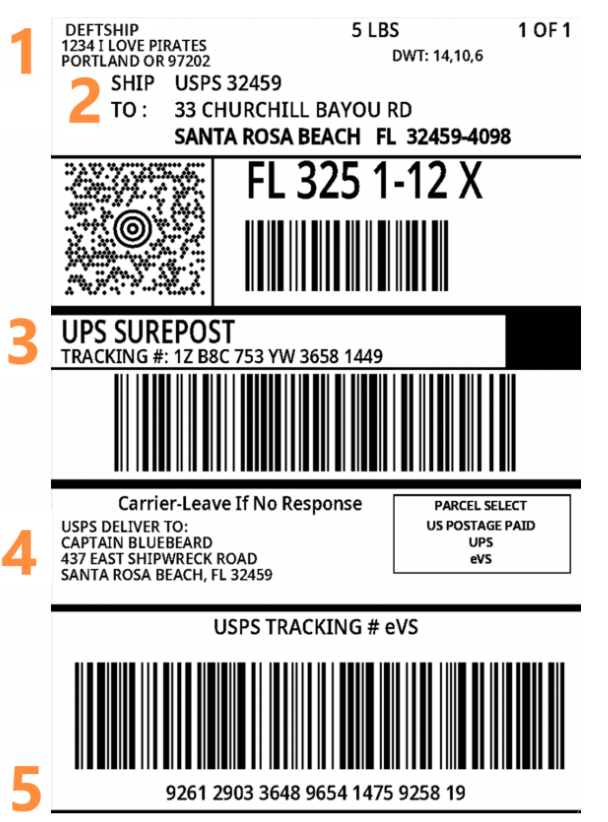 Tracking UPS Ground Saver Packages
Similar to all other UPS shipments, you can monitor tracking updates for UPS Ground Saver packages on your Deftship shipment page. You can click on the tracking number directly to get you to UPS website.




Insurance Distinctions
UPS Ground Saver labels on Deftship come with $100 of carrier liability, but this coverage only applies when UPS has possession of the package. If USPS takes over the last-mile delivery, UPS is no longer responsible, and the $100 carrier liability ceases to apply. It's advisable to purchase additional insurance for full coverage during the entire shipment journey.


Limitations and Considerations
Here are some guidelines for UPS Ground Saver shipments:
UPS Ground Saver is for residential addresses, not commercial destinations.
It allows shipping to PO Boxes, Military Addresses, and U.S. Territories.
Packages must meet specific size and weight limits.
There is a surcharge for packages exceeding size limits.
Signature Confirmation is not available for UPS Ground Saver.
Rubber stamps cannot be added to Ground Saver labels.
The shipment may be subject to both UPS and USPS policies, depending on last-mile delivery.

Surcharges may apply, including non-standard cube and length charges. For more information on
UPS surcharges
, please refer to Deftship guidelines.