How to view referee's transactions
Steps to View Referee Transactions on Desktop

2. You can also filter the result by the following: Type, Amount, Organisation, Organisation Alias, Action By, Reason, Extra Information, or Date.
Steps to View Referee Transactions on Deftship App
1. Tap on Finance.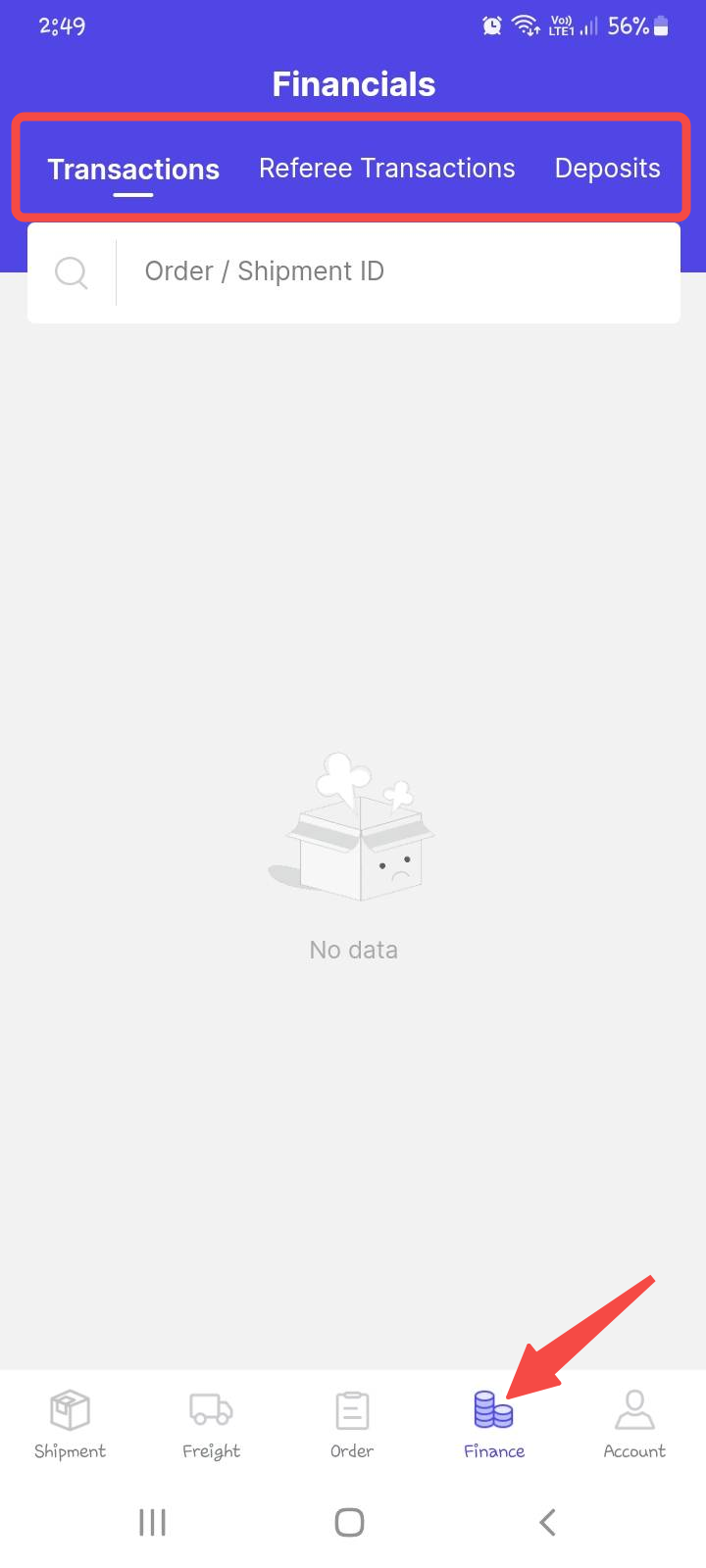 2. There are 3 Categories of Financial Reports to see.
Transactions - Your account Transactions
Referee Transactions - Transactions of Referees under your team
Deposits - You can see your account deposits
3. Tap on Referee Transactions.
Related Articles

How to view transactions

You can view all money going in and out of your account by checking the Transactions tab. It has details of shipment charges acquired. Steps to View Transactions on Desktop On the left sidebar click on Transactions under Financials. 2. You can Filter ...

How to view Referee's Orders

Steps to View Referee's Orders on Desktop On the left sidebar, click on Referee Orders 2. You can also filter the result by the following: Shipment ID, Organisation, Reference, SKU, Status, Carrier, Tracking number, or Date. Steps to View Orders ...

How to configure and view Notifications

Configuring Notifications You can configure notifications based on your preference. Under Organisation, click on Team. 2. Select the name of the owner or user you would like the notifications to be configured. An owner has an option to configure the ...

Introduction to each page of the Deftship system

Here is a preview of all tabs available in Deftship v2. 1. Orders Tab A. New Shipment How to create a new shipment order Shipment to Canada How to Purchase Insurance (3rd Party) How to add signature confirmation on my Label B. Open orders How to ...

How to use the Saved Views

Steps to use the Saved Views 1. Look for Saved views Under Orders, go to Open Orders. Look for Saved Views on the upper-left part of the page. You can see two (2) pre-set up Saved Views; International and Domestic Shipments. 2. Go to Filters Click on ...